CBD COFFE, IT'S MORE THAN JUST COFFEE
We are a nation of coffee drinkers, coffee lovers. It's in our culture, in our DNA, if we can say it. Coffee is not only a tool for awakening brain cells, but also a key link that connects us collectively. However, it is no secret that coffee (especially if we drink three cups a day) can affect our body quite negatively. It can increase the level of bad cholesterol, cause mild addiction, increase irritability or lead to insomnia and lack of sleep. Now is the time for a completely different type of coffee, coffee that includes CBD, CBD coffee.
WHAT IS CBD AND HOW DOES IT AFFECT THE BODY?
CBD – abbreviation for cannabidiol – is a naturally derived compound found in a cannabis plant. People can sometimes confuse CBD with THC, (this is another popular compound), but they are not the same. CBD, unlike THC, does not give a feeling of "stonedness". Instead it gives a calm, relaxing feeling. And as many users report, it helps to reduce joint pain, improve sleep quality and lower blood pressure.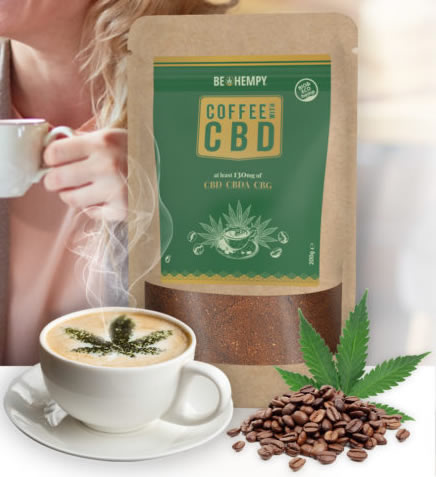 IS CBD COFFE SAFE AND BENEFICAIL?
Of course, but in moderate quantities.  
A user recently tested his bodily reaction to coffee with CBD. On the third day, he wrote:
I'm completely awake without a headache. Caffeine can sometimes raise my heart rate and cause tremors in my hands, but today I feel calm. I don't feel any anxiety or extra stress.
While coffee can increase energy and alertness, it can also cause disturbances and anxiety, especially if it is consumed in abundance and/or if the person already has anxiety problems. CBD can reduce anxiety and stress and help regulate mood without eliminating the benefits. Coffee with CBD is thus definitely a wonderful innovation that ensures the alertness like the one you have with caffeine, but without the anxiety it can produce.