CBD RESIN: EFFECTS, USE AND DOSAGE
INDUSTRIAL, MEDICAL OR INDICA?
CBD resin – Industrial, Indian or medicinal cannabis comes from the same plant called Latin Cannabis Sativa L. In everyday life. The term cannabis refers to industrial cannabis. The term industrial means only that it can be used for industrial purposes. From it we produce textiles, building materials, insulation, fuels, plastics, cosmetics, nutritional supplements and food. Many types of industrial hemp can be grown in Slovenia, which contain a very high content of the active substance CBD. And the THC content is almost zero. CBD resin with low THC content from such cannabis has no psychotropic effects, therefore completely safe and legal.
While the term marijuana refers to the medical or recreational use of this plant, the main difference between cannabis and marijuana is that the cannabis used for industrial purposes has much less THC (Tetrahydrocannabinol) phytocannabinoid. Industrial hemp can contain about 0.3 – 1.5%. Medical contains 10% or more of it and it is not currently allowed to be grown in Slovenia.
Both species of cannabis also differ in appearance. Industrial cannabis grows upwards and focuses on the growth of the stem. While medical cannabis grows outward and focuses on the growth of buds and flowers.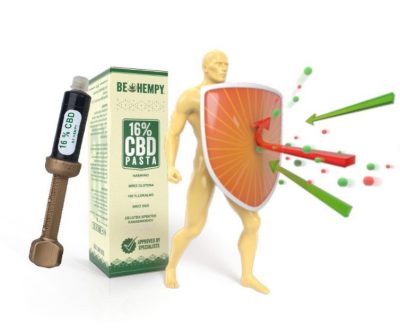 What is the difference between CBD resin and THC paste? In everyday life, there are many synonyms and alternative names used such as hemp resin, hemp paste, THC, cannabis resin or hashish oil.
Cannabis CBD resin or paste is made from legal industrial hemp (Cannabis sativa L. var. Sativa). Hemp resin is made by the extraction of cannabis leaves.
The process is not easy, it is very expensive and cannot be performed properly in a home lab. The extraction phase is followed by the purification and decarboxylation phase. This type of extraction allows pure extracts without the presence of solvents or alcohol. The extract contains up to 2000 different substances contained in hemp. In addition to its high content of CBD (cannabidiol), it contains a full spectrum of other phytocannabinoids such as: CBDA, CBN, CBG, CBGA, CBC, CBDV, THCV, THC, THCA and others. It contains a wide range of terpenoids, flavonoids, vitamins, chlorophyll, amino acids and other important substances. The effects are complemented by what is known as the "entourage effect".